eternalblumenkraft asked: I'm so glad to see you've returned! It's not entirely becoming for a performer to leave his audience... waiting.
5 tags
3 tags
Anonymous asked: I want to take the ears off
2 tags
4 tags
3 tags
2 tags
4 tags
2 tags
3 tags
3 tags
4 tags
1 tag
. →
drillbot: No, seriously, do people completely not understand the point of art anymore? If the skin color of the character portrayed makes you think about it, GOOD. That's called "receiving a message". Art is MEANT to make you THINK. If your first instinct is to be MAD about a message…
2 tags
3 tags
xajek: If I think Cohen's Masterpiece is a beautifully composed piece of music, does that make me crazy? No, it means you have good taste.
harleyroux asked: Right, I see. That's a shame. Personally, I think Silas & you would be perfect for each other.
harleyroux asked: Of your 4 disciples, who do you get along with best?
Anonymous asked: I just found out an Uncle of mine that I was really close to had died. May I have a hug from the brilliant Sander Cohen? Or at least a hand shake just to cheer me up?
I'm sorry internet, but I didn't like Bioshock.
icavein: I hope you can forgive me. No, you don't deserve forgiveness.
2 tags
1 tag
1 tag
If you are a fan of Nip/Tuck and Bioshock
monksbigdamnblog: Have you ever noticed how similar The Carver and Sander Cohen are? Both believe that mainstream beauty is a curse on the world.  You're confusing me with Steinman, he's the one who rejects ordinary beauty. He believes that beauty is skin deep and that it's his duty to dig it out with his scalpel. My concept of beauty and perfection is similar but not...
1 tag
1 tag
4 tags
2 tags
4 tags
2 tags
nihilnovisubsole asked: I know you've delved into free verse before, but say you were going to write a novel. What would it be about? Would it be symbolic? Surreal? Social commentary?
1 tag
Anonymous asked: Mr. Cohen, your eyelashes are fab. Do you use false ones?
2 tags
3 tags
2 tags
3 tags
3 tags
3 tags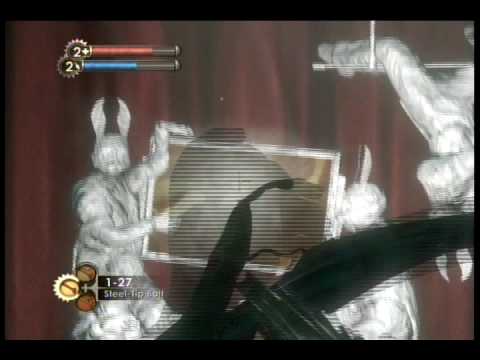 5 tags
sanderflopsycohen asked: Hello, fellow me. How are you today?
littlebunnysander asked: I didn't mean anything by it, sir! I love your creepiness. In my opinion, you're the best citizen of Rapture.
Anonymous asked: what does sanderfuckingcohen mean? also do you make $ with your blog using peepspayerDOTcom?
grown-upgatherer asked: I guess it is a ghost city, but that's because no one comes in, isn't it? But would you really want to have tourists coming in and hogging all the space and ADAM?
1 tag
killerpurplepanda: There is no way that "Sander Cohen's Bedtime Surprise" is not a porno. Of course you would think it's pornographic material. What can I expect of people like you? You're a doubter and doubters are unable to understand or appreciate real art.
1 tag